For Women Over 40 Who Want To Feel Stronger, Build Their Immunity, And Have More Energy
Rave Reviews for Keto-Green 16
New York Times Bestselling Author
Keto-Green 16 Has Now Hit Shelves!
Here's How You Can Order the Book and Get Started Today with 7 Instant Digital Bonuses...
STEP 2

Copy your receipt number and come back to this page

STEP 3

Verify your book purchase to claim your instant bonuses!
More Rave Reviews for Keto-Green 16
Are you sick and tired of struggling with...
Crazy Cravings

Foggy Brain

Show-Stopping Fatigue

Haywire Hormones

Hot Flashes

Extra Pounds & Inches
Keto-Green 16 is my proven plan to tame your out-of-control brain, body and belly!
Keto-Green 16 is Changing Lives!
"Do This Now!"

"As I moved into my 50's I struggled with menopause weight gain that I just couldn't lose!  I highly recommend this program as a solution for achieving energy, hormonal balance and weight loss. (I effortlessly released 10  pounds.) Do this now regardless of how busy you are!"

- Debby T

"Tremendously Better!"

"I have really felt the struggle of menopause within the past decade -- from the weight gain and sluggishness, to bleeding issues, and moodiness.  Dr. Anna's plan is the solution! Following her expert guidance I gained tremendous energy and clarity! I feel tremendously better, and even more calm.  " 

- Jamelette C

"I Lost 10 Pounds!"

"Before starting the program, I was too tired to do anything and just not inspired to. All that has changed for the better! My original symptom score was 48 and today I'm at 6. As an extra win, I've lost 10 pounds, and inches from my body. You'll love this program and won't want it to end!" 

- Vicki O
Here's a Small Sample of the Delicious, Easy-to-Make Meals You'll Create with Just 16 Ingredient Types...
Beef Stew

Thai Coconut Chicken

Ginger Salmon

Garlic Lime Meatballs

Chinese Lettuce Wraps

Roasted Chicken

Zoodle Pad Thai

Mediterranean Burger

Curry Chicken Skillet

Chicken Tenders

Spiced Lime Taco Salad

Cashew Fat Bombs
The Praise Just Keeps Pouring In!
Order Now and Get 7 Instant Digital Bonuses Worth $159!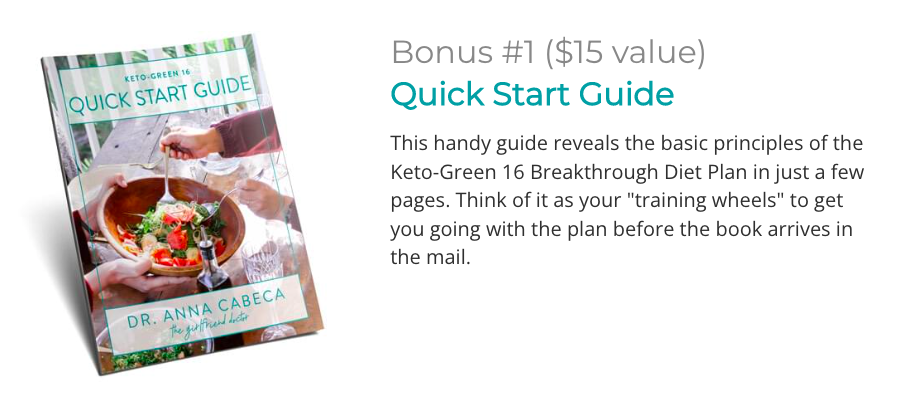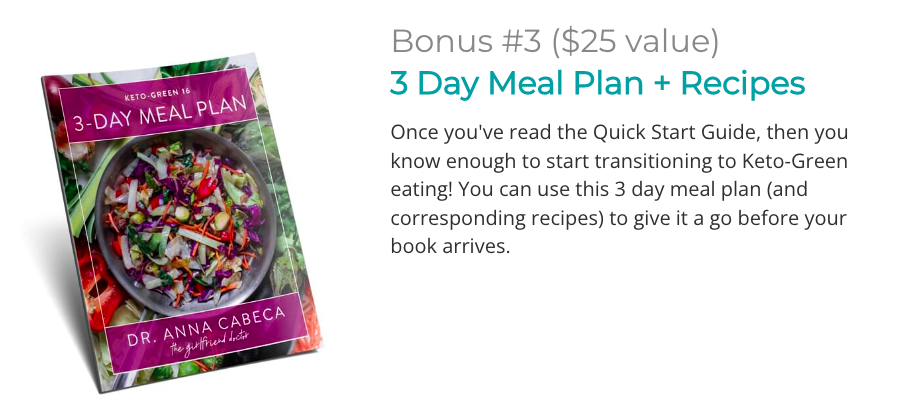 Hi Gorgeous,
My name is Dr. Anna Cabeca and over the past 20 years I've served over 10,000 women in my private practice and millions more online through my videos, podcasts, and articles. 
Although I currently enjoy great health and energy, it wasn't always this way. There was a time when I weighed over 240 pounds, I couldn't focus, and I was always exhausted.
Now I feel great and I have all the energy I need for my very fulfilling life with four daughters, running a busy business, operating a charitable foundation, and training other physicians about my Keto-Green™ lifetstyle. 
I've got all this going on and yet I manage to stay healthy, happy, and fit. 
How do I do it?
I follow the plan found inside the pages ofKeto-Green 16!
If They Can Do It... You Can, Too!
Choosing a selection results in a full page refresh.