Get a sneak peek of my new book!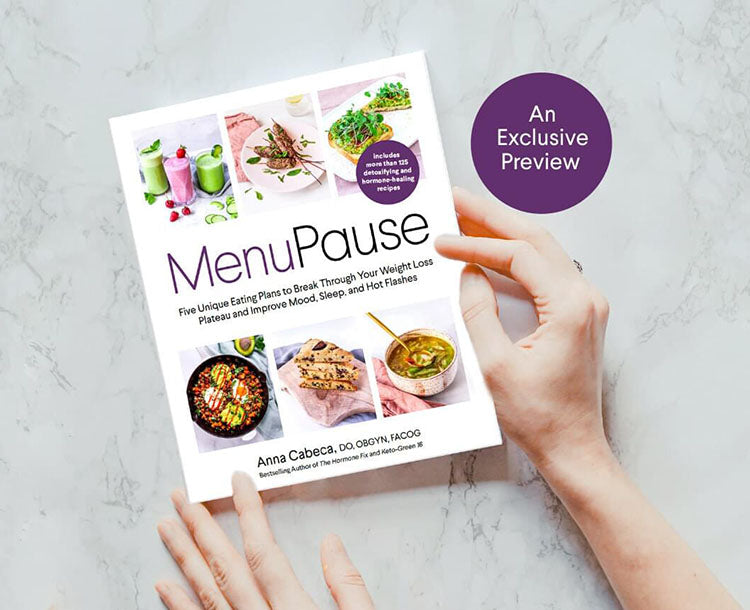 Cook Your Way to Reduced Menopausal Symptoms with MenuPause:
Discover the food-hormone connection​
Learn to pause for optimal health
Get delicious, nutritious, symptom-reducing recipes
​Feel revitalized in body, mind, and spirit
GET YOUR SNEAK PEEK
Girlfriend, the hormonal fluctuations that bring us to menopause can wreak havoc on our otherwise normal and happy lives.
But you probably don't know how simple it can be to restore balance.
When you support your hormones, you can reduce frustrating symptoms, break plateaus, and create a higher quality of life. Here's the exciting part: it's as easy as making dinner. All you need is the right menu.
Praise for MenuPause
"Dr. Cabeca's brilliant new book is a must-read if you want to free yourself from creeping weight gain, brain fog, hot flashes, and other menopause symptoms."

— DR. KELLYANN PETRUCCI

NYT bestselling author of Dr. Kellann's Bone Broth Diet

"Fuel the hormonal shift of menopause with these creative, internationally-inspired recipes, and thrive." 

— DR. SARA GOTTFRIED

NYT bestselling author of The Hormone Cure

"Dr. Anna beautifully helps us use food as our first medicine, helping women break through the weight blocks, hot flashes, mood shifts, and more. Blending a solid science-based approach with great recipes, the journey back to you starts right here." 

— DR. TASNEEM BHATIA

Author of The 21-Day Belly Fix and Super Woman Rx
Hi, I'm Dr. Anna Cabeca.
Over the past 20 years, I've served 10,000+ women in my private practice as an OBGYN — and millions more through my books, online videos and articles.
One of the greatest lessons I've learned as a clinician is that food is the foundation of true health. I know, because I too reached a point where menopause was making me miserable, and I had to get my hormones— and life—in order.
I reclaimed my health and my life using delicious, healing foods, and I want to help you do the same.
Through the power of the Keto-Green lifestyle, thousands of women have opted out of menopause misery and experienced a joyful transition to the next stage of their lives.
You've worked hard to get here.
You deserve to feel energetic, vibrant, and strong.
That's why I'm sharing this exclusive preview of MenuPause with you. It's your how-to guide for living a fulfilling life, in which you wake up every day, loving the woman you have become." 
GET YOUR SNEAK PEEK
Where should I send your Sneak Peek?