"The Hormone Fix" Reveals How
Women of All Ages Can Slim Down, Boost Energy, Sleep Better, and Stop Hot Flashes...Naturally!
Rave Reviews for The Hormone Fix
"Dr. Anna Cabeca is a true innovator. She's also a powerful crusader for women's health. Her experiences help her tell it like it is, but also approach even the most delicate topics with warmth and compassion.The Hormone Fix really is a perfect example of what happens when brains, heart, and fearless innovation come together. I highly recommend this book."

— JJ Virgin 4-Time New York Times bestselling author, and Fitness Hall of Famer

"The Hormone Fix is a treasure trove of accurate and user-friendly information that all women who are suffering during menopause need to know and apply. It is written by an OBGYN who knows the territory both personally and professionally. I highly recommend this book."

— Christiane Northrup MD, New York Times bestselling author ofThe Wisdom of Menopause

"Dr. Cabeca brings an incredible level of clarity to the task of optimizing hormone function - a task that has long proven a challenge for patients and clinicians alike. There is so much a woman can do to regain health through hormone balance, and Dr. Cabeca provides the roadmap."

—David Perlmutter MD, Author, #1 New York Times bestseller,Grain Brain, andBrain Maker
Here's How to Get the Book and Claim Your Instant Digital Bonuses...
STEP 1

Purchase the Book from any of these online retailers...

STEP 2

Copy your receipt number and come back to this page

STEP 3

Verify your book purchase to claim your instant bonuses!
Do You Have Any of The 9 Warning Signs of Haywire Hormones?
Bladder Problems

Brain Fog

Fatigue

Hormone Imbalance

Hot Flashes

Low Sex Drive

Sleep Disturbances

Vaginal Dryness

Weight Gain
(If so... YOU NEED THIS BOOK!)
Here's What's Waiting for Your Inside The Hormone Fix...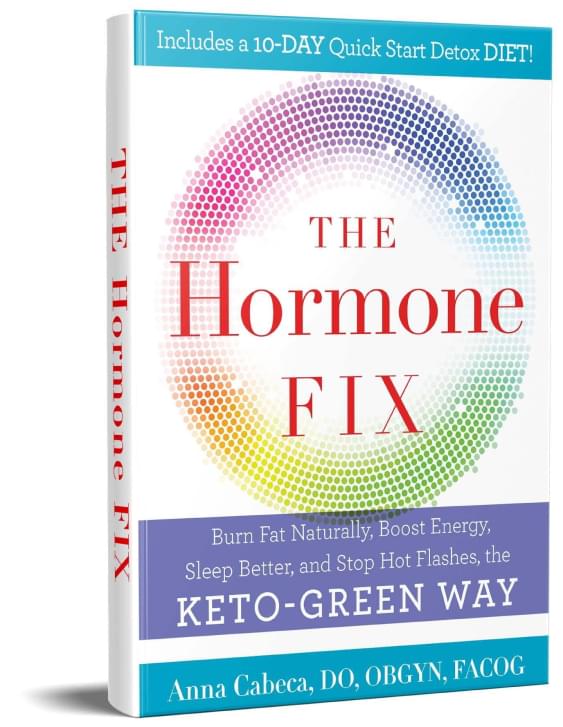 Learn The Latest on Hormones

It takes 15 years for the latest medical research to trickle down to our medical system and providers — so in The Hormone Fix you will get up to speed on the latest female hormone research and what it means to you.

81 Yummy Recipes You'll Love

You won't believe how easy and delicious it can be to eat my Keto-Green™ Way! These tried and true meals are not only delicious, they're super filling. I promise you'll never be hungry!

10 Day Quick Start Detox

Start feeling lighter, looking slimmer, and enjoying more energy... Plus lose as much as 10 pounds and in just 10 days!

21 Day Keto-Green Eating Plan

After the 10 Day Quick Start Detox you'll continue to feel slimmer, saner, and sexier thanks to meal plans that are delicious and... hormone balancing!
Here's a Small Sample of the Delicious, Hormone-Balancing Meals You'll Enjoy as You Eat Your Way to Wellness...
Omelet Wrap

Omelet Wrap

Spinach Frittata

Steak Fajita Bowl

Lettuce Tacos

Salmon Cakes

Pistachio Whitefish

Lemon Chicken

Oven-Braised Ribs
More Rave Reviews for The Hormone Fix
Leanne Ely

"Packed full of excellent information and all based on the latest scientific research, Dr. Cabeca makes the subject of hormone balance understandable and, even better, doable! Her delicious Keto-Green recipes wisely point women toward a much more nutrient dense way to do the popular keto diet."

-CNC, New York Times bestselling author and creator of SavingDinner.com

Josh Axe

"Dr. Anna Cabeca is the authority on fixing women's hormones. No one has put these pieces together until now. Follow Dr. Anna's program and experience rapid yet safe weight loss and resolution of your most nagging hormonal symptoms." 

-DNM, DC, CNS, author ofKeto Dietand co-founder Ancient Nutrition

Mark Hyman

"Dr. Anna Cabeca is a pioneer in the field of women's menopausal health, and she brings her expertise into this fantastic book. Her book provides women with useful, impactful and easy to implement solutions that will bring them back to pristine health. Every woman should have The Hormone Fix on her bookshelf and share it with their daughters."

-MD, Ten-time #1 New York Times Bestselling author

Kellyann Petrucci

"Dr. Anna Cabeca is the world-class expert you need to guide you through the challenging territory of menopause. If you're experiencing brain fog, vaginal dryness, weight gain, mood swings, or other symptoms, she has safe, natural solutions that truly work. So don't waste any more time suffering! Instead, read The Hormone Fix, and take back your life."

-New York Times bestselling author ofDr. Kellyann's Bone Broth Diet

Steven Masley

"This is an urgently needed book that every woman should read. The Hormone Fix provides clear, practical, and easy-to-follow steps that will correct hormone-related symptoms. Dr. Anna Cabeca has combined decades of practical experience and wisdom to provide a safe solution to health issues that women face today."

-MD, FAHA, FACN, FAAFP, CNS, and author ofThe Better Brain Solution

Ellie Campbell

"Dr. Cabeca has cracked the code for weight loss. For many patients going keto is not enough. Her brilliant wisdom and decades of experience helping women achieve wellness goals shines in this outstanding easy to read guide. Highly recommended."

-DO, Board Certified in Family Medicine and Integrative Holistic Medicine

Angeli Maun Akey

"Dr. Anna Cabeca is a pioneer in women's health and natural ways to restore hormonal balance. Her raw honesty in sharing her own healing journey makes this book even more impactful. This Hormone Fix provides a concise road map to balanced hormones through deep healing and nutrition. I recommend it to all of my perimenopausal and menopausal women!"

-MD FACP, Author ofFine-Tune Your Hormone Symphony

Palmer Kippola

"If you are a woman over 40, looking to reverse or prevent peri- and menopause misery, there is no better or more comprehensive solution than Dr. Anna Cabeca's Magic Menopause program. The combination of education, empowerment, and enthusiastic community delivered by an incredibly caring and world-class women's health expert makes the outcome of personal transformation almost guaranteed."

-Functional Medicine certified health coach and author Beat Autoimmune

Robin Nielsen

"You'll want Dr. Anna's secrets to getting your sexy back! She shows you how to lose those last 10 pounds, double your energy and fall in love with yourself again, naturally."

-CNC, BCHN
Everyone Who Purchases the Book Gets $274 in Bonuses...
Bonus #1 ($35 value)

Staying Keto-Green on the Go

This ebook reveals my secrets for sticking to the program while you're on the go — be it across town or across the country. Includes info on how to find Keto-Green foods at restaurants and convenience stores, plus how to stay in ketosis while traveling.

Bonus #2 ($25 value)

Keto-Green Recipe Cards 

These are 10 of my fav Keto-Green dishes — hearty breakfasts, satisfying lunches, delicious dinners — that I'm absolutely sure you and your family will enjoy.

Bonus #3 ($20 value)

It's Not Your Husband... It's Your Hormones!

One of my favorite sayings is, "If you only hate your husband 2 weeks out of every month... it's not your husband, it's your hormones." Watch this video to learn more about how your monthly cycle affects your mood and libido.

Bonus #4 ($20 value)

How to Make a Keto-Green Plate

In this video I demystify what it means to be Keto-Green by explaining what your average meal should look like on my plan. It's very different than the USDA's MyPlate that's made so many Americans obese.

Bonus #5 ($20 value)

My Mighty Morning Energy ElixirI

start almost every day with a special green smoothie that balances my hormones, detoxes my system and puts me in ketosis. Watch this video to see how easy it is to make this tasty green smoothie.

Bonus #6 ($50 value)

Keto-Green Community

MembershipIn this community we share helpful Keto-Green tips, delicious and nutritious Keto-Green recipes, inspire each other with our successes, and get answers to any questions in regards to the Keto-Green Way. I just know you're going to love the wonderful people you meet in here! 

Bonus #7 ($20 value)

Chemistry Lab Panel by Ulta Labs

Get important information about the current status of your metabolism, including the health of your kidneys and liver, electrolyte and acid/base balance as well as levels of blood glucose and blood proteins. Abnormal results, and especially combinations of abnormal results, can indicate a problem that needs to be addressed.

Bonus #8 ($25 value)

Thrive Market Coupon: Save 25% 

Thrive Market is on a mission to make healthy living easy and affordable for everyone. They can ship Keto-Green foods right to your door! Get an extra 25% off your first purchase and a free 30 day trial by using my special coupon code. 

Bonus #9 ($20 value)

SEED ROTATION STARTER KIT for Hormone Balance

 It's a little-known secret that you can smooth out your monthly hormone fluctuations by eating specific seeds during certain days of your cycle. My good friend and colleague Magdalena Wszelaki explains it all in this easy ebook. 

Bonus #10 ($39 value)

$39 Olive Oil for Just $1

Receive a free $39 bottle of artisanal extra virgin olive oil—direct from the new harvest and bursting with farm-fresh flavor unlike any olive oil you've ever tasted. Pay just $1 to help cover shipping as your introduction to the Fresh-Pressed Olive Oil Club. My favorite olive oil—amazingly delicious! (Limited to the first 250 who respond.)
Meet Dr. Anna Cabeca
Hi Gorgeous,
My name is Dr. Anna Cabeca and over the past 20 years I've served over 10,000 women in my private practice and millions more online through my videos, podcasts, and articles. 
Although I currently enjoy great health and energy, it wasn't always this way. There was a time when I weighed over 240 pounds! My hair was falling out in clumps, I was depressed, and I couldn't sleep... but I was always exhausted.
I was a board-certified physician and I was helpless to fix this mess with the tools that were available to me within the conventional medical system of the time. Antidepressants and sleeping pills were not an acceptable answer so I literally took a journey around the world that saved my life and improved the lives of tens of thousands of others.
Now I feel great and I have all the energy I need for my very fulfilling life with four daughters, running a busy business, operating a charitable foundation, and training other physicians about hormones. 
I've got all this going on and yet I manage to stay healthy, happy, and fit. How do you want to live out the rest of your life? What kind of example do you want to leave for your children and grandchildren?
I want you to live the best quality of life and my plan to help you do that is inside The Hormone Fix!
ORDER NOW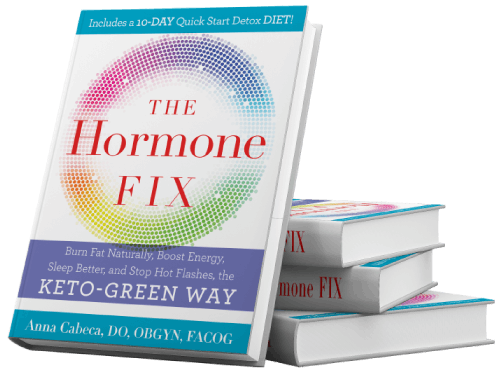 Are You Ready to Get Slim Naturally, Boost Energy, Sleep Better, and Stop Hot Flashes?
Get The Hormone Fix